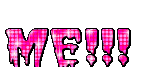 It's cool of you to join us! I'm Rat and I run this operation.
Heres my button!!!!
my awesome boyfriend ufochasing made
it for me! Here's HIS!
Hey. Want to see something awesome?



















So what's the deal?
Some basic stuff about me is that I like Photography, and Horror, as well as Movies and Writing. Neocities has taught me that I also like making my own Website! even if its hard work and trying to figure out how to get midi files to play makes me Tired. Speaking of Midi Files, i listen to a lot of Music in my free time, some artists include Death Grips, Machine Girl, Crystal Castles, Duster, and a ton, ton more. Oh boy, and how can we forget Videogames? I play lots of different kinds, but some of my favorite games are Yakuza 0, Minecraft, Stardew Valley, and Breath Of The Wild. I have a lot of Piercings, mostly in my face but a few in my ears, and Eleven in total. I have an affinity for Rats and Rodents, and Raccoons and other Trash Animals. If i was an animal, i would be a Raccoon, on account of my Dark Eyebags and Luscious Curves. Some of my favorite symbols are Hearts, Spirals, and Smiley Faces. My horror movie motifs would be Bugs, Teeth, and Rotting Fruit. And maybe some Neon Lights if we're feeling Sexy. Because Neon always makes things better.
If you're interested and hungry for more, have a click around those blinky flashy words up there and explore the depths of the Rat Cage. But watch where you step! For who knows what could be lurking around the corner...
What you see so far is only just the beginning! I can get pretty inactive for long stretches of time but i have plans for this site so stay tuned. You can leave a note here! Thanks for looking at my page B)
| | | |
| --- | --- | --- |
| | Is this goodbye? | |